In 2000 we had cupcakes, comfort food, and Rachel Ray. Twenty-odd years later, we had realistic burgers made from plants, and a wine brand that exploded in popularity because of augmented reality.
How did we arrive here? And, more importantly to our partners in the food & beverage industry, what's next for us? 
With so many changes happening left and right, it's imperative for businesses to look ahead to future trends in the food & beverage world. Thankfully, we've done some market research and forecasted the top food & beverage marketing trends coming our way in 2021, so you don't have to. 
You can download the full Aid&Abet report here, or scroll below for a taste of what's inside.
Trend #1: Consumption with a Purpose
Way back in August 2019, fast food chain Popeyes, a franchise that has for several years struggled financially, released their new fried chicken sandwich to the public. Their sandwich became an overnight sensation. 
We can then look at competitor Chick-fil-A, whose chicken patty was long considered the best out there. When the right-leaning politics of Chick-fil-A founder's came into the spotlight, consumers reacted, through tweeting, protesting, and even boycotting.
This story of two sandwiches highlights a significant moment in consumer behavior within the food & beverage industry. Although, good-taste is still a must, we no longer consume solely to satisfy our innate hunger or thirst. Our consumption is more tied to the ethos of our tribe. We choose to consume a product that shares our same culture, values, and personal goals, and we're quick to reject (often vocally) what we see as a threat to them.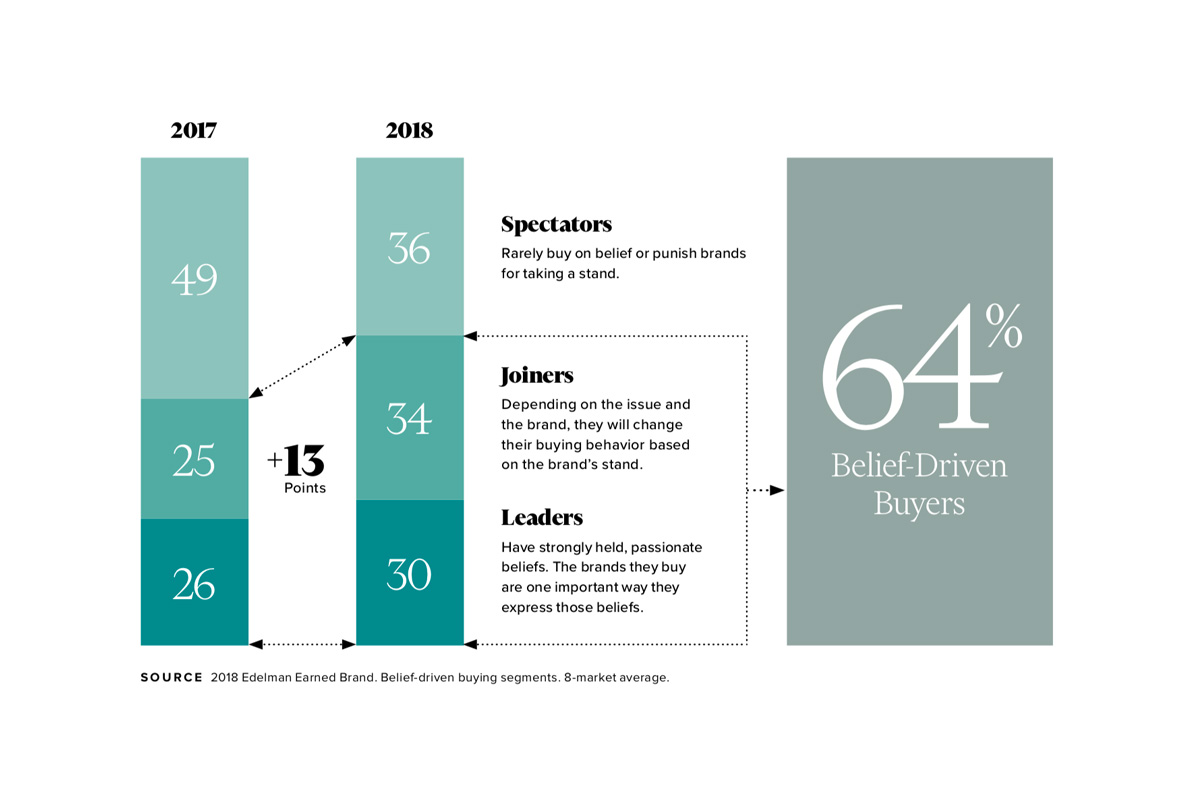 Instead of eating "just 'cause," more are preferring to eat for a "just cause."

Philanthropic-based marketing penetrates almost every market and has been growing for quite some time. Edelman's 2018 Earned Brand Report says that the majority of consumers across all ages and all incomes are belief-driven buyers. Meaning some buyers are actively switching, avoiding, or boycotting certain brands based on their stance on societal issues. The food & beverage industry is no different.
Environmental sustainability may be the most relevant example of purposeful consumption in this industry today. It has helped fuel the rise of veganism, plant-based protein, and sustainable packaging, which are important trends in themselves.
To focus in on this "green" trend in food & beverage, let's look at the data:
A recent study shows that, while meat and dairy only account for 18% of consumed calories, they are responsible for 60% of agriculture's greenhouse gases.
On average, consumers are willing to pay up to 25% more for goods that are certified organic or that have a positive environmental impact. 
Heineken has committed that by 2020, at least 50% of their main raw materials will come from sustainable sources.
While this is only a glimpse of a larger, more complex trend, these three statistics help shape the story that's molding the minds of today's consumer. As the story goes, our consumption of meat is harming the environment at faster rates than our consumption of plants, and we're willing to address the growing issue by spending more, which then puts the pressure on brands to do what's right for our planet.
A renewed hype around health and wellness
Consumption with a purpose as a trend in food & beverage can be seen as a need beyond self (environmentalism, racial equality, income inequality, etc.), but it can also point to a different need, one which we personally identify with.
Sure, we could look at the rise of CBD, plant-based meats, and non-alcoholic drinks as being individual trends in the industry. They answer the "what." But the more important question needed to be asked is "why". The answer being, because these products offer a perceived benefit to our health, wellness, or physical appearance ("perceived" being the underlying word). One example cited by the International Food Information Council Foundation says:
Despite the importance of familiarity, 7 in 10 consumers would be willing to give up a familiar favorite product for one that did not contain artificial ingredients. Of those who would, 4 in 10 would be willing to pay 50% more and 1 in 5 would pay 100% more. That said, there are about 4 in 10 who would pay nothing more for the new product.
According to McKinsey, fresh produce and health-oriented packaged goods are growing exponentially compared to other categories. This will not only pave the way for product developers to create better-for-you products, but will also enable brand marketers to design packaging that showcases their value proposition effectively to their audiences.
---
Download "5 Megatrends Shaping Change in the Food & Beverage Industry in 2021."
---